LINKS: All my links can now be found on Linktree https://linktr.ee/swillett
ART NEWS
TAO HAU TAN RESIDENCY – OCTOBER 2023
I
I am honoured and extremely excited to have been awarded a fully supported residency in the beautiful province of Anhui, China close to the Yellow Mountain. Many thanks to the judges and the curators of the Tao Hua Tan, 6th International Artists Retreat and Residency for selecting me. I will be joined by 39 other artists from China and all other the world.
OPEN HOUSE – LEWISHAM ARTHOUSE 2023
Our fabulous studio co-operative, Lewisham Arthouse, where I am lucky enough to have a studio, will be opening its doors and studios on 30th September – 1st October As well as an oppottunity to visit artirts studios and buy work, there will be a pop-up cafe with homemade cakes, guided tours, a children's art trail, and artists' workshops in 'Edible Bread Painting', 'Patch-up Printing', Comic Making and more. Lewisham Arthouse supports over 40 artists, as well as arts-based learning, through creative workspace and specialist facilities. We run a varied exhibition and events programme of visual art and live performance.
Open 12-6pm Saturday and Sunday
Free entry.
Lewisham Arthouse
140 Lewisham Way
London SE14 6PD
www.lewishamarthouse.org.uk
START ART FAIR – SAATCHI GALLERY 11th – 15th October 2023
My painting 'Squeeze Teal' will be on display and available at this years StART art fair in the Saatchi Gallery, from 11th – 15th October. It will be shown by the gallery New Blood Art who have represented me for many years and to whom I am very grateful. The fair will run alongside Frieze Official week in London
THE OTHER ART FAIR – LONDON 2023
Very excited to be exhibiting in The Other Art Fair London 2023, 29th June – 2 July, West Handyside Canopy, London Kings Cross. I will be showing a new body of work from the Drawing Breath series as well as other new paintings made over the last year
THE OTHER ART FAIR – LONDON 2022
Very excited to be exhibiting in The Other Art Fair London 2022, The Old Truman Brewery, Brick Lane, 17th – 20th March 2022, I will be showing new work that has been made over the last year including four large oils from The Fabrication series. https://www.theotherartfair.com
SAATCHI CANVAS INTERVIEW – MEET THE OTHERS
Nice interview for Canvas Magazine about my practise and the upcoming participation in The Other Art Fair https://canvas.saatchiart.com/art/art-news/meet-the-others-sara-willett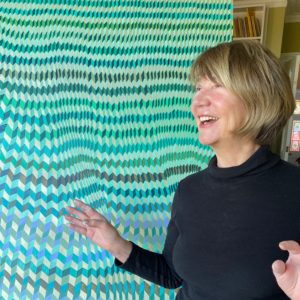 FURTHER FROM HOME
Solo exhibition at Hatcham House Gallery – September/October 2020, of work made over the last 5 months from the Breath series and the Blue World series. All proceeds will go directly to the covid response charity, South Southwark Community Hub, who have been doing vital work helping some of the most vulnerable people in the community.
HOLD YOUR BREATH
Solo exhibition of site specific work, create during lockdown UKat Project Space, Lewisham Arthouse London, July 2020
ARTSY

Very happy to say the my work is now featured on Artsy, thanks to the House of Nobleman gallery and 20:20 Art Vision
12 HAY HILL

20:20 Iconic Art vision in collaboration with The House of the Nobleman are currently presenting 19 of my paintings at private members club 12 Hay Hill in Mayfair – the work will be there until May 2020
Web: www.2020artvision.co.uk www.houseofthenobleman.com www.12hayhill.com
Instagram: 2020artvision houseofthenobleman. 12hayhill
RECONSTRUCTING THE REALITY
Reconstructing the Reality, Curated by 20:20 Art Vision with artists, Ed Saye, Steve Burden and Rebecca Fontaine-Wolf – 14th – 20th February at Peyer Fine Art Gallery, Zuric 2020artvision.co.uk
AAF – Battersea – Spring 2019
My work will be shown with Gala Fine Art at the Affordable Art Fair in Battersea, London, this Spring form March 4th – 7th. www.affordableartfair.com
galafineart.uk
CITY KALEIDOSCOPE, EXHIBITION BEING 3 GALLERY, BEIJING 2016
https://www.trueart.com/news/281184.html
INSIDE THE STUDIO – INTERVEW WITH CANVAS MAGAZINE – SAATCHI ARThttps://canvas.saatchiart.com/art/inside-the-studio/from-the-studio-of-sara-willett